Biante New Arrivals - Friday July 22
Author: Jessi Date Posted:22 July 2016
This week Biante are very pleased to be releasing four new 1:18 Scale releases from the 2013 V8 Supercars Championship Season. There's some cracking models in this range which replicate cars that featured in some really memorable moments from that year.
It would be hard to argue against the fact that perhaps the most memorable moment of the 2013 season was when Jason Bright and Team BOC won the Jason Richards Trophy at the ITM 400 Auckland. Named after the V8 Supercar star who sadly passed away from cancer, the Jason Richards Trophy is awarded to the driver with the best combined results over that weekend of racing. Given that Jason Richards had very strong ties to Team BOC and Brad Jones Racing in the final stages of his career, it was fitting that Jason Bright won the trophy named in his team mates honour. The result couldn't have been written more perfectly and the special moment is one for the history books. The model of the 2013 ITM 400 Auckland winner is produced in die-cast with fully opening parts other than the boot and comes with a mini replica of the JR Trophy.
Also available this week is another winning car from a very popular driver in the form of the Tekno / VIP Petfoods Holden VF Commodore V8 Supercar driven by Shane Van Gisbergen to win the 2013 Clipsal 500. The Clipsal 500 is arguably Australia's biggest V8 Supercar race behind the Bathurst 1000 and winning it is a pretty special achievement for any driver. It was an even better race to win for Van Gisbergen after his controversial move to Tekno after announcing his retirement in late 2012! It's a great model and it's sure to be a highly sought after one in future years given it's very low production number, so don't miss it.
Rounding out this weeks releases is the Tekno / Darrell Lea car driven by Jonathan Webb in the 2013 Championship Season and the Supercheap Auto Racing car driven by Russell Ingall and Ryan Briscoe at the 2013 Armor All Gold Coast 600. Each model featured in this weeks releases has been produced in a limited edition of only 300 pieces and are available to purchase online from our website.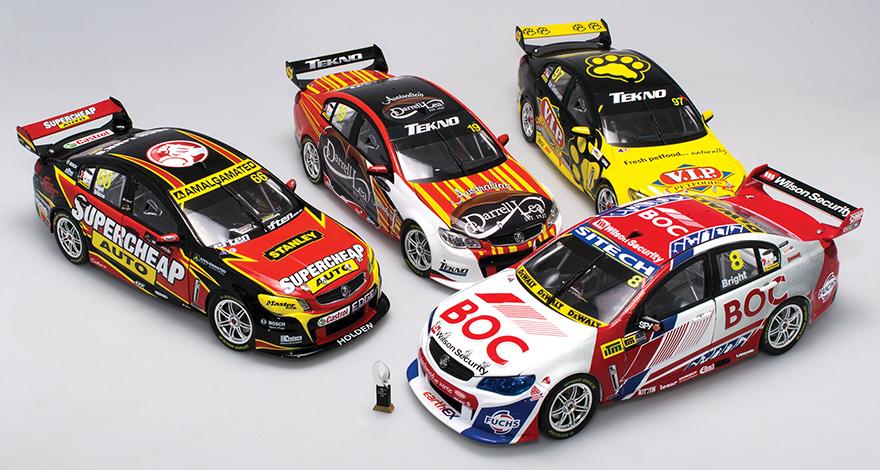 1:18 Scale Holden VF Commodore - Team BOC - 2013 ITM Auckland 400 Jason Richards Trophy Winner
Driver: Jason Bright (Includes Replica Trophy)
Limited Edition of 300
1:18 Scale Holden VF Commodore - Tekno / VIP Petfoods - 2013 Clipsal 500 Winner
Driver: Shane Van Gisbergen
Limited Edition of 300
1:18 Scale Holden VF Commodore - Tekno / Darrell Lea - 2013 V8 Supercars Championship Season
Driver: Jonathan Webb
Limited Edition of 300
1:18 Scale Holden VF Commodore - Supercheap Auto Racing - 2013 Armor All Gold Coast 600
Drivers: Russell Ingall / Ryan Briscoe
Limited Edition of 300
---
Leave a comment